Montezuma – The Jewel of Costa Rica 
A Tropical Paradise…
Allow yourself to dream for a moment… if you could live anywhere, where would it be, and what would it be like? What kind of people would live there? Read on and discover this opportunity to experience something you've always wanted – the "pura vida" lifestyle of Costa Rica.
Quality of Life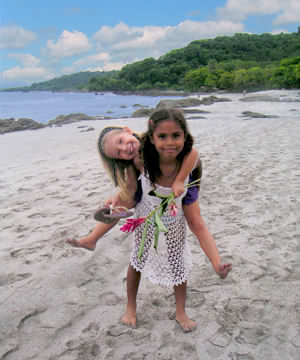 Montezuma, Costa Rica" align="right" border="1″ /> The Montezuma area has been inhabited for around 10,000 years, but farmers and ranchers first came in large numbers just a few decades ago, at which time much of the primary forest was cut down for cattle farming. Luckily, the extremely rugged topography of the southern Nicoya Peninsula kept many areas out of reach, so the many small valleys of the area are still filled with ancient trees, and most of the variety of wildlife has been able to survive. In recent years, the jungle has been expanding, as many people, both Costa Ricans and new foreign inhabitants, are reforesting or simply allowing the jungle to take over in some areas by itself. Yet the relaxed country-lifestyle of the area remains. "Pura Vida" (pure life) is more than just a Costa Rican slogan, it's the way that people here live their lives in harmony with the land and each other. Perhaps it's the wildlife and natural beauty that make them appreciate this life, but it's also the warmth of the Costa Ricans which is so appealing for the ever-increasing number of foreigners moving to Costa Rica. Ticos (Costa Rican natives) traditionally enjoy the small things in life. They are quick to start a friendly conversation and share a laugh with strangers. They are especially patient with foreigners trying to speak Spanish and take the time to greet each person equally.
The Influence of Foreigners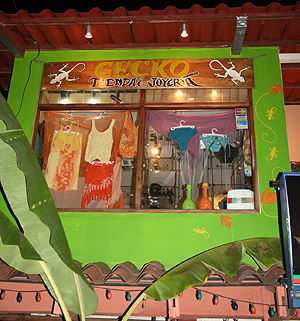 Many new people from all around the world have settled here over the past twenty years, helping to create a thriving local culture, unlike anywhere else. This is a true melting pot culture, with no single nationality dominating. Especially numerous among foreign populations are Italians, Argentinians, Americans, Canadians and Germans, but there are people from dozens of countries. Many have opened hotels, restaurants, yoga centers, gift shops, and other businesses, catering to both tourists and locals. The overwhelming reaction to these changes have been positive and Ticos are usually excited to talk about what the new buzz is about each week. We are living among rapid change, with so many people bringing their dreams and energy to the mix. This blend of foreign influence with the local customs and way of life creates in Montezuma a rich, unique culture.
The Local Economy
Almost all foreign and Tico-run businesses are of the "mom 'n pop" type, run by a local family. No McDonalds or Wal-Mart here! Many artisans and local families make something special for the community, such as Argentian-born Jorge's incredible Empenadas, which never fail to sell out in minutes when he shows up with a fresh basket. Or the lady on the road to Cabuya who makes fresh marmalades and other sauces. Pick-ups loaded with fresh produce, hammocks, or crafts from other parts of Costa Rica can often be seen and there are others with fresh seafood, which can be arranged to be delivered to your house. These good-hearted people are always working hard to bring fresh supplies to the area and a smile to your face. For Americans especially, this contrast to their overly commoditized, heavily marketed and consumptive lifestyle in the U.S. they are used to back home makes so many people fall in love with Montezuma and Costa Rica, and so many never want to go home.
Saturday Organic Market
Each Saturday, Honey and Hart organize an outdoor market at 10am in Montezuma. Here you will find a wide variety of all-organic vegetables and fruit, plus other difficult to find healthy food products such as almond milk, almond butter, and fresh herbs. Honey usually has a variety of cheeses made locally by a women's goat farming collective. Other vendors come and sell their baked goods and set up displays of art, clothes, and jewelry. Meanwhile, musical instruments and drums will be played while people shop and kids dance around in the grass. Each Saturday you will see many of your friends in the community, and it has become a social event, and part of the soul of Montezuma.
Breathtaking Beaches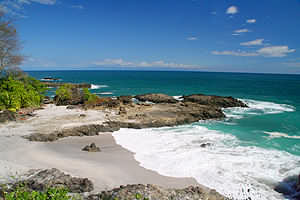 The southern Nicoya Peninsula, and Montezuma in particular, has some of the most beautiful beaches in Costa Rica. There is an amazing variety, and something for everyone, from undeveloped white sand beaches a mile long, to small Mediterranean style beaches with incredible snorkeling. The water is always warm, and there are always fish to be caught. Beachcombers often find exotic treasures such as agates, shark teeth, and fossils. Tide pools full of strange sea-life abound in the rocky reef sections of the beach, as the waves crash just outside. Horses are available for beach walks and sunset riding.
The Local Cuisine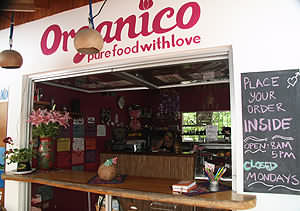 A combination of Costa Rican food and international cuisine are offered in the area's many restaurants. Foods like ceviche, which is made from fresh fish cooked without heat using only lime juice and herbs, are served in traditional Costa Rican restaurants called "sodas". Costa Rica is also know for its "casados", a rice and bean mixture which can be accompanied by chicken, fresh fish, or meat, plus salad, and grilled plantains. Other restaurants include several authentic Italian brick-oven pizzerias, Argentina grills, and mediterranian food such as fish tacos and Portobello mushroom sandwiches. Both Montezuma and the Malpais side have vegetarian restaurants that serve freshly made foods with organic ingredients. In addition to the food, some restaurants have live music and art parties which provide entertainment for the guests.
An Adventurous Lifestyle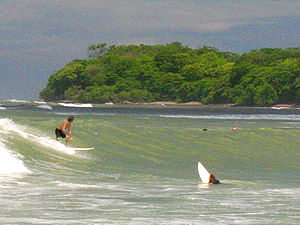 Waterfalls, snorkeling and scuba diving, canopy tours, nature hikes, surfing, and fishing are all available on both sides of the peninsula. On the Montezuma side is Cabo Blanco National Reserve which has hiking trails through the rainforest to a remote beach on the southern tip of the peninsula. Montezuma's many waterfalls are some of the best in the country, with warm water and surrounded by nature. You can buy fresh fish from local fishermen, or catch your own off the rocks or from a boat. Almost no one comes back empty-handed on a fishing trip here. Life here is an adventure on a daily basis, because you never know what kind of rare animals or birds you might see at any moment.
Relaxation
Costa Ricans understand the importance of living a relaxed lifestyle and finding the time to lie in a hammock and read. The sounds of birds and monkeys will remind you of how close to nature you are and add a sense of calmness, and peace to your day. If you like to meditate, you'll find it's easier here, with the sound of insects, birds, waves, waterfalls, and other natural sounds wherever you are. It's easy to feel the truth of how we are all one with the natural world.
Nature and Wildlife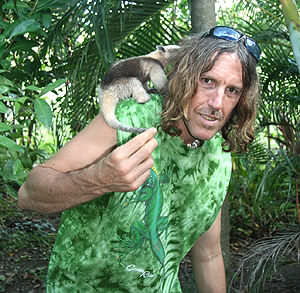 Living in a world surrounded by nature is an incredible experience, and after you've been here for a while, it's hard to imagine going back to living amidst the noise and pollution of most big cities. This part of Costa Rica has over 300 bird species and dozens of mammals, including two types of monkeys, anteaters, five types of wild felines, porcupines, and many water species such as dolphins and whales, whale sharks, and sea turtles. There are also three types of land turtles that live in the jungles, although most people have never seen one. Real vanilla, the world's most expensive food and the only edible orchid, grows wild here.
Green Living
Living in accordance with nature and its surroundings will provide you with a deep sense of connection to the earth. Green living is about minimizing our impact on the planet, using sustainable systems to support a comfortable lifestyle. The Pura Vida Sunsets community encourages its owners to build green and live green, and information on how to do this in a tropical climate will be provided. We are looking for people who share these values to become part of Pura Vida Sunsets.
Some Useful Info for Montezuma:
Montezuma Hotels Montezuma Hotel information and details to help you plan your trip here.
Montezuma Rental Cars Information about how to get the best rental car for visiting the Montezuma area.
Montezuma Wedding Info Planning a wedding in Montezuma? Visit this site for help.
http://www.anamayaresort.com/soul-surfer-yoga-retreat/ – Costa Rica is popularly recognized for its various surfing spots and yoga. Anamaya Resort offers many types of surf classes and packages to its guests. These classes are especially designed for the absolute beginners who want to know how to surf and also for the advanced surfers who want to improve their surfing skill, flexibility and strength. Instructors provide attention the individuals and designed the courses so that it matches their needs and goals. Surfing sessions are combined with Yoga classes which help the surfers to maintain flexibility, balance and strength. Practitioners not only will enjoy catching the waves but also daily yoga sessions overlooking 270 degrees of ocean view.