Eco House Design –

"Casa Feliz"

 
Size: 149m2 (1550ft2) [82m2 (850 ft2) inside, 67m2 (700 ft2) outside]
Price: $150,000
Type: 1BR/1BA
Features: Integrated kitchen/living area, arched doorways, polished cement finish, local hardwood accents, sliding aluminum windows with both glass and bug screen, outside shower, cleristory windows, two lofts, bay window as sofa/bed.
Description: This is the ideal small house for the tropical climate. Its many windows allow light from every side, as well as breezes to blow through to cool the house. During the day, you will never need to turn on a light bulb or use air conditioning. The minimalist style inside, along with smooth-polished floors and walls, create an environment that's easy to clean, deters insects, and requires almost no maintenance. The high ceilings, double doors, and large covered deck create the feeling of living outside. Typically in a house like this, you would leave all the doors and windows wide open all day. The house also features a central shaft that allows in light. It's dark color causes it to heat up in the sun, and creates a chimney effect to help pull hot air out of the house.
This design is nearly identical to a house already built on Geoff McCabe's property, one of the owners of Pura Vida Sunsets. He lived in this house for over a year, and now rents it out. (Click to see photos of it.) Now it has become the most popular rental house in Montezuma. Geoff's rental clients love the house and many have asked if was okay to "make a copy of it" someday, and take photos from every angle. Contact us for a tour of this house when you visit Montezuma.
Options: Casa Feliz is perfect for a couple. If you like the design but want an extra bedroom, there are two easy ways to add one. An additional room could be added on either underneath the deck, by creating the deck, or it could be to next to the existing bedroom.
Another option is to split the indoor/outdoor bathroom into two, to make it a 1BR/2BR house.
Laundry/bodega: The best way to add this is either with a separate small building to the side, or, it could be put underneath the house, but this second option will cost more.
Of course, if you like the style but want it larger, we can redraw the plans to simply increase the size, or just the length, which will add lots of extra space. So instead of a 6m x 10m footprint for the inside part, it could be 8m x 12m or something like that, which would also allow for much larger loft spaces as well.
Photos: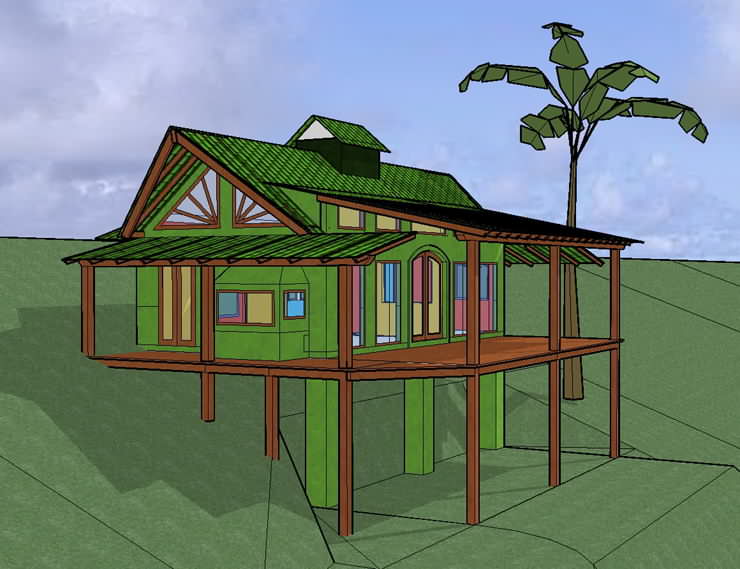 Eco House 1 – Image #1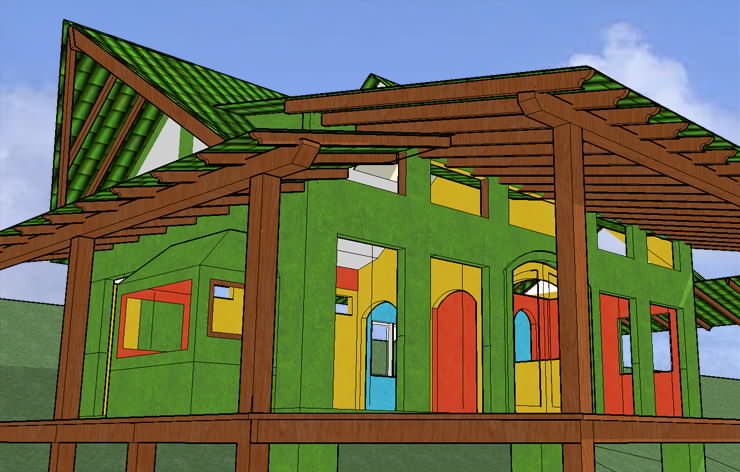 Eco House 1 – Image #2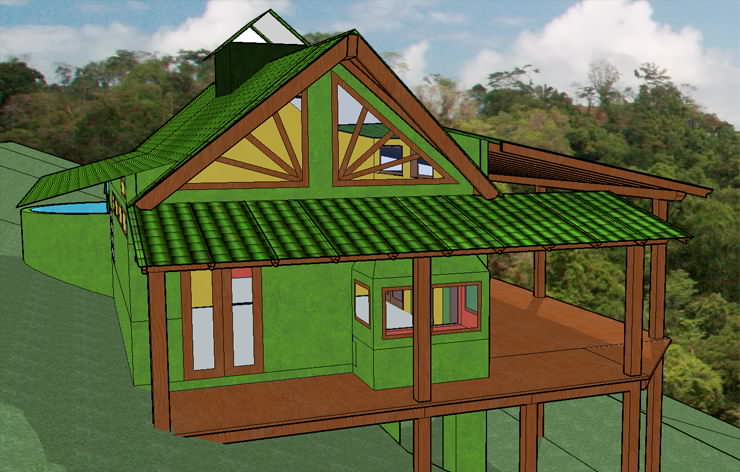 Eco House 1 – Image #3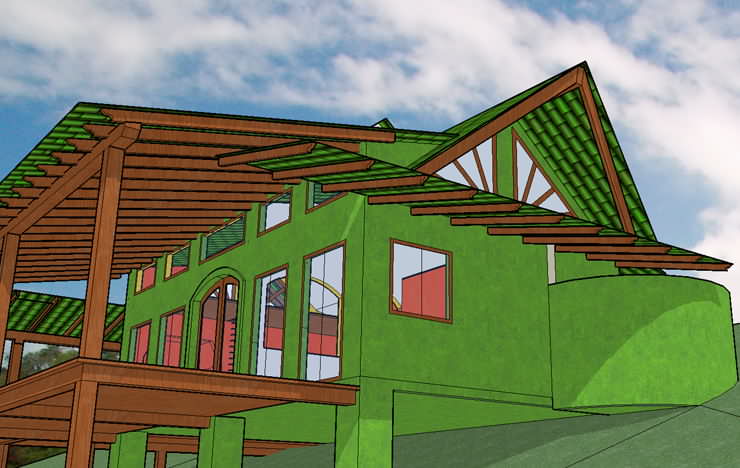 Eco House 1 – Image #4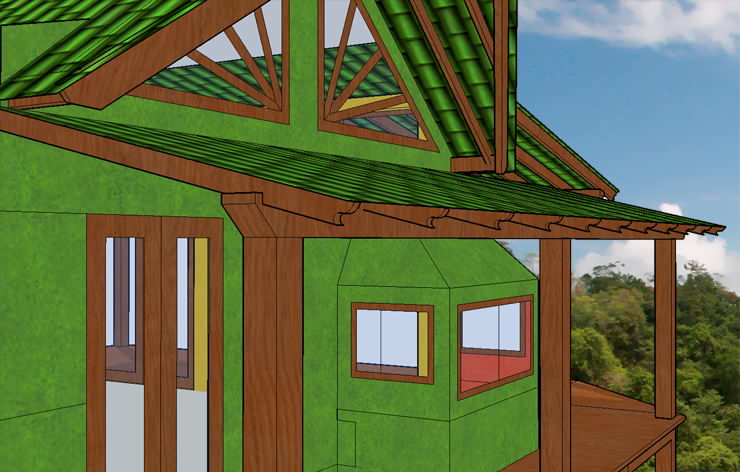 Eco House 1 – Image #5 – Bay window in living room is also a double bed.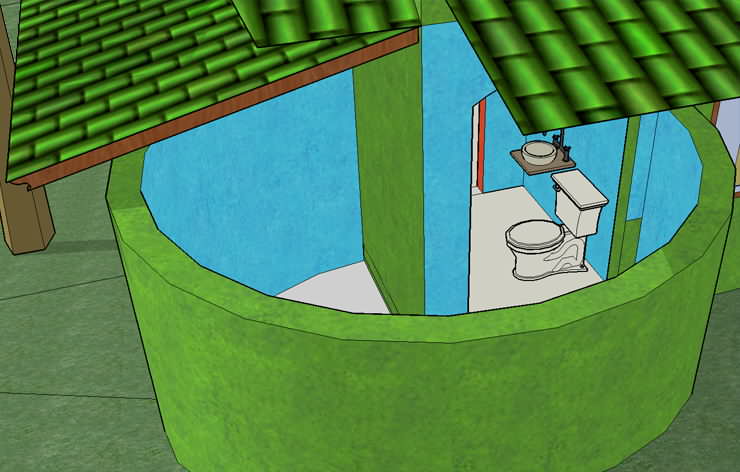 Eco House 1 – Image #6 – Outdoor "Garden Shower" to reduce humidity/cleaning inside.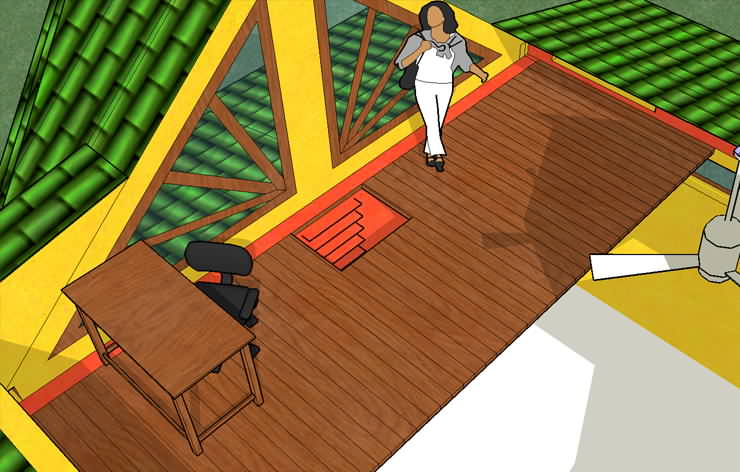 Eco House 1 – Image #7 – Living room loft shown.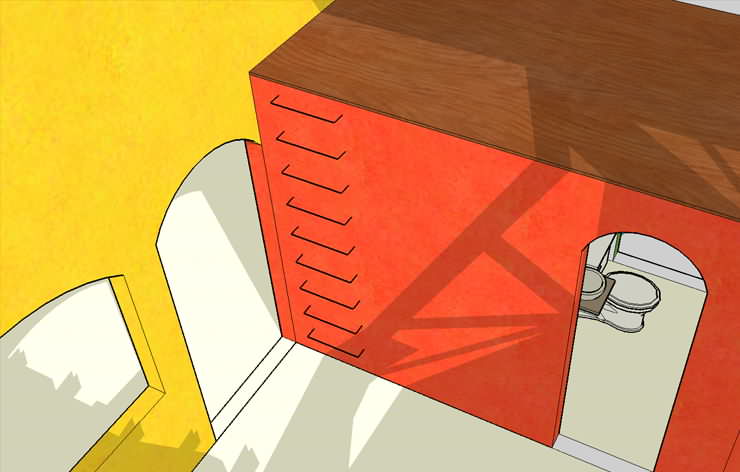 Eco House 1 – Image #8 – Bedroom loft shown.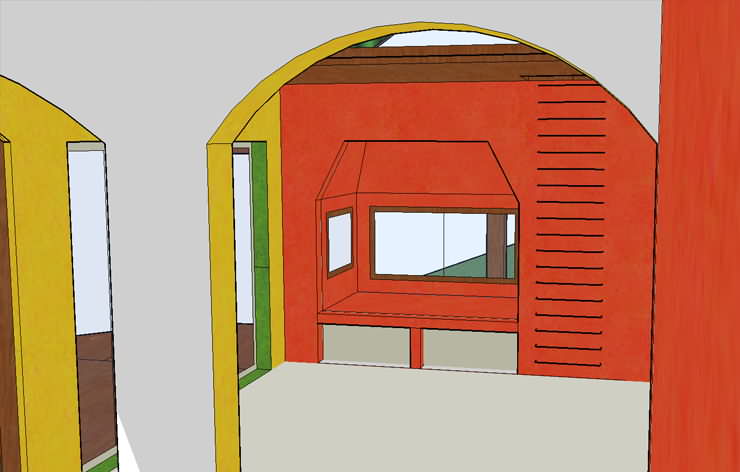 Eco House 1 – Image #9 – Bay window in living room is also a double bed.