Eco House Design –

"Casa Amapola"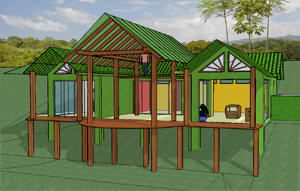 Size: 180m2 (1870ft2) [88m2 (915 ft2) inside, 92m2 (970 ft2) outside]
Price: $180,000
Type: 2BR/2BA (optional extra BR)
Features: Integrated kitchen/living area, polished cement finish, local hardwood accents, sliding aluminum windows with both glass and bug screen, outside shower, cleristory windows, loft, large covered central space.
Description: This is a U-shaped house, with the private central courtyard covered by a very high roof, and a loft inside. This creates a large, pleasant communal living area in the middle, which is easily accessed from all parts of the house. The roof styles on this house are kept very simple, because complicated roofs in Costa Rica often have problems with leakage due to the climate and generally poor level of skill in local construction labor.
Options: A U-shaped house offers many options. The central courtyard could be kept open, with a swimming pool, a garden, or a reflection/fish pond. They also work well if there happens to be a large tree where you want to build, so the tree will be kept alive, and will help to shade the house. The central roof can be designed with a hole in it for a tree to go through.
There's a large space underneath the deck that can be designed either as a water-catchment pond for use in dry season, or a bodego / laundry room.
The second bedroom in this house is shown in the model as an entertainment room, with a hide-a-bed, so this isn't a true 2BR house as shown, but it's easy to make this into a full second bedroom, like on the other side.
The outside bathroom could also be done on both sides, so that both bedrooms can enjoy the beauty and elegance of an outside shower and walled garden.
This could easily be made into a 3BR house as well. The bedroom on the left, as shown, is 8m x 4m, which is huge. This could be cut in half, with a shared outside bathroom. The general layout of this concept is shown in snapshot #9 below.
Another option is to make the central roof a couple feet higher, and then extend the loft for the entire length of the covered space, creating a huge upper deck. One could even make an outside office space, a yoga deck, or many other fun and useful spaces up here.
Of course every change adds more to the price, but none of the changes here are particularly expensive.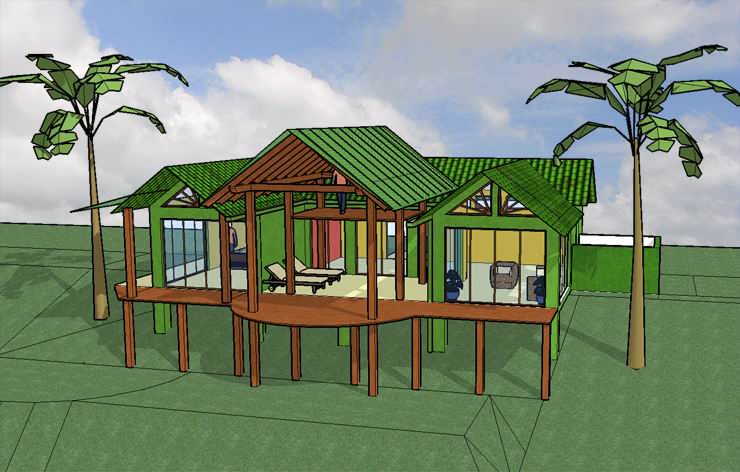 Eco House 2 – Image #1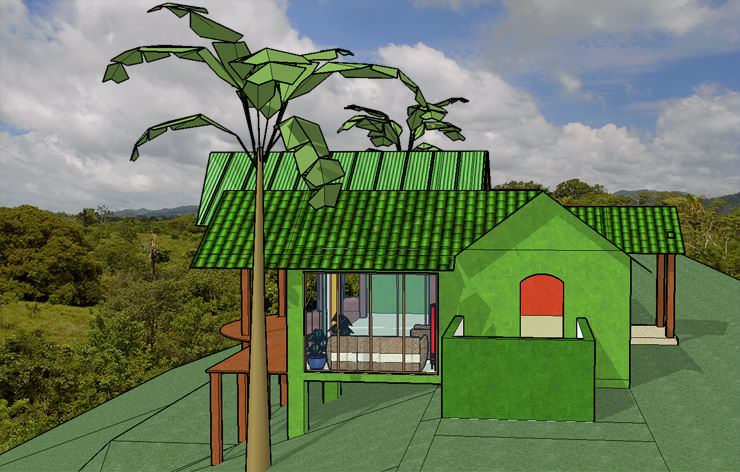 Eco House 2 – Image #2 – Side view, showing outdoor bathroom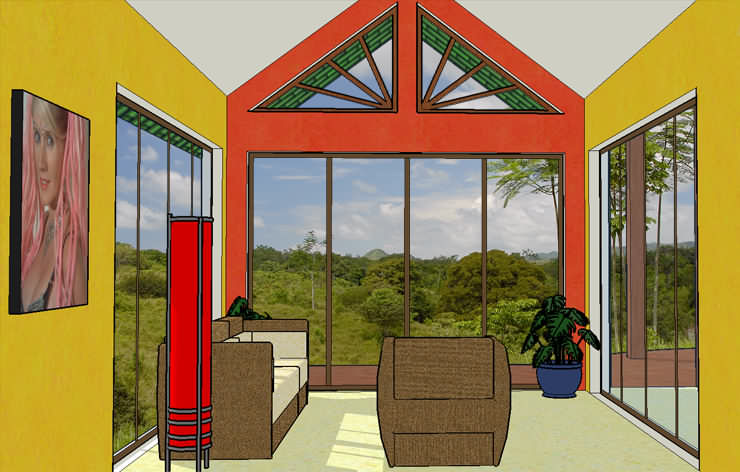 Eco House 2 – Image #3 – Living Room, doubles as a guest bedroom. Actual view from lot 7.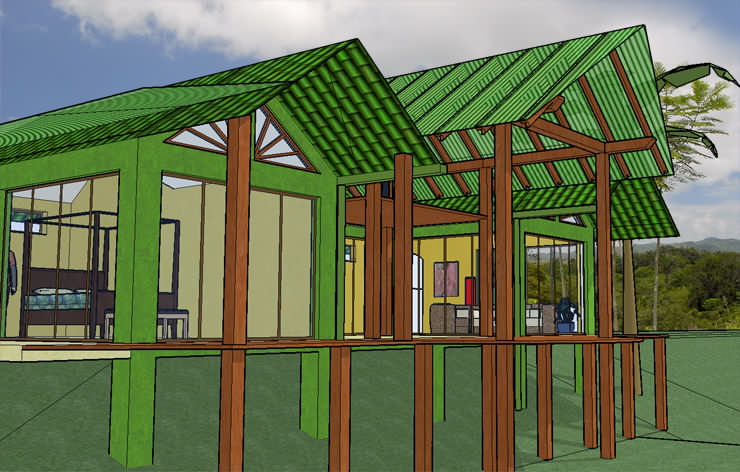 Eco House 2 – Image #4
Eco House 2 – Image #5 – Actual simulated view from lot 4, 5, 6, or 7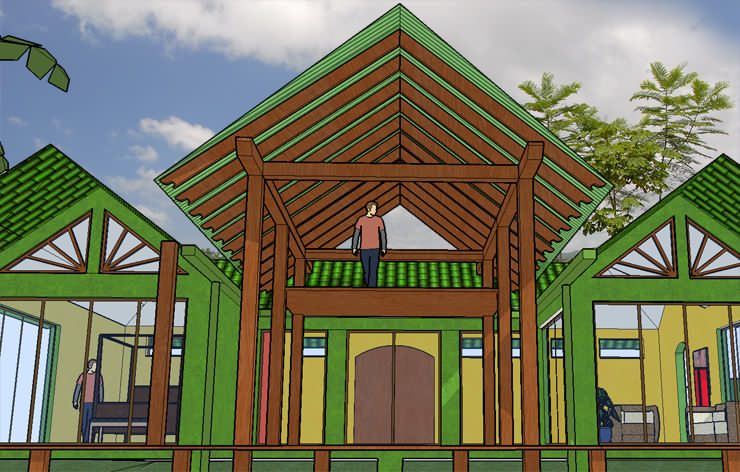 Eco House 2 – Image #6 – Large outside covered living space with loft.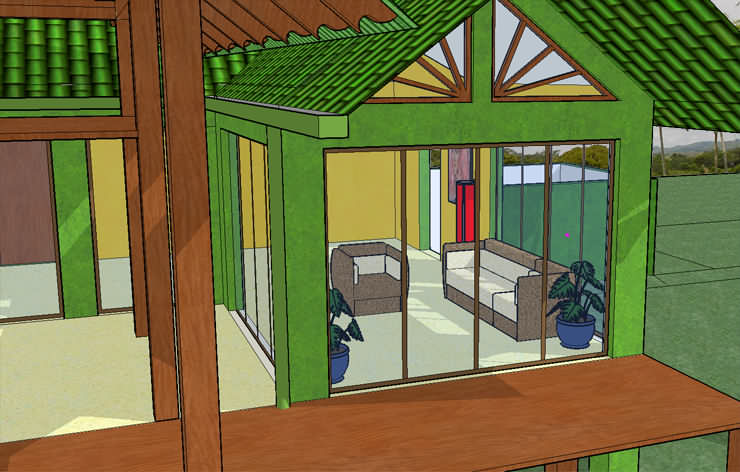 Eco House 2 – Image #7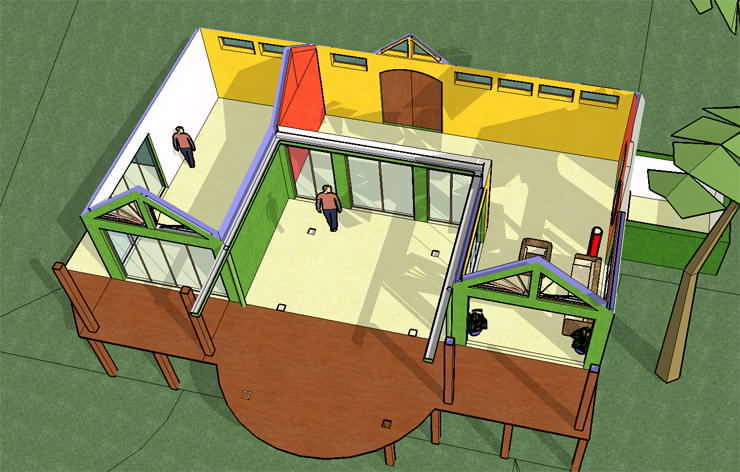 Eco House 2 – Image #8 – Shown without the roof, to see the shape of the inside and outside spaces.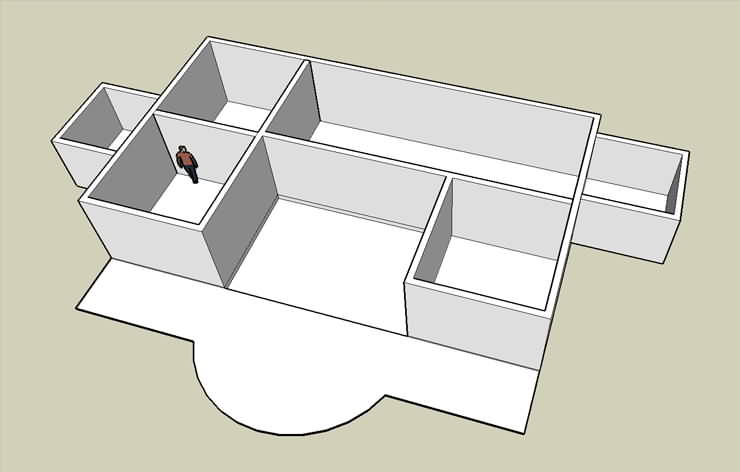 Eco House 2 – Image #9 – Layout for 3 Bedroom version, with two outside bathrooms.